If you're in search of a durable exterior cladding option that is both lightweight and easy to install, aluminum is the material you're looking for to avoid the hassles of more traditional siding materials.

This versatile material has been used in building construction for decades, and for good reason. It's increasingly being combined with other siding options like stone and alternative masonry for a modern and elegant effect.

Whether you're a homeowner, architect, contractor, or designer, you'll find the numerous advantages of aluminum highly appealing.
Why is horizontal or vertical aluminum siding easier to install than other types of siding?
Unlike fiber cement, wood, CanExel, or other types of home siding, aluminum siding panels don't require specific tools or caulking finishes between the joints.

At least, that's the case for Rialux products, which are designed so that the siding panels fit perfectly together. The Clip Secur (click-lock) system provides additional stability during installation.

The speed of installation resulting from these factors averages a time-saving of 25%. Want to learn more? Check out the step by step guide in our article on the 5 installation tips for Rialux aluminum siding.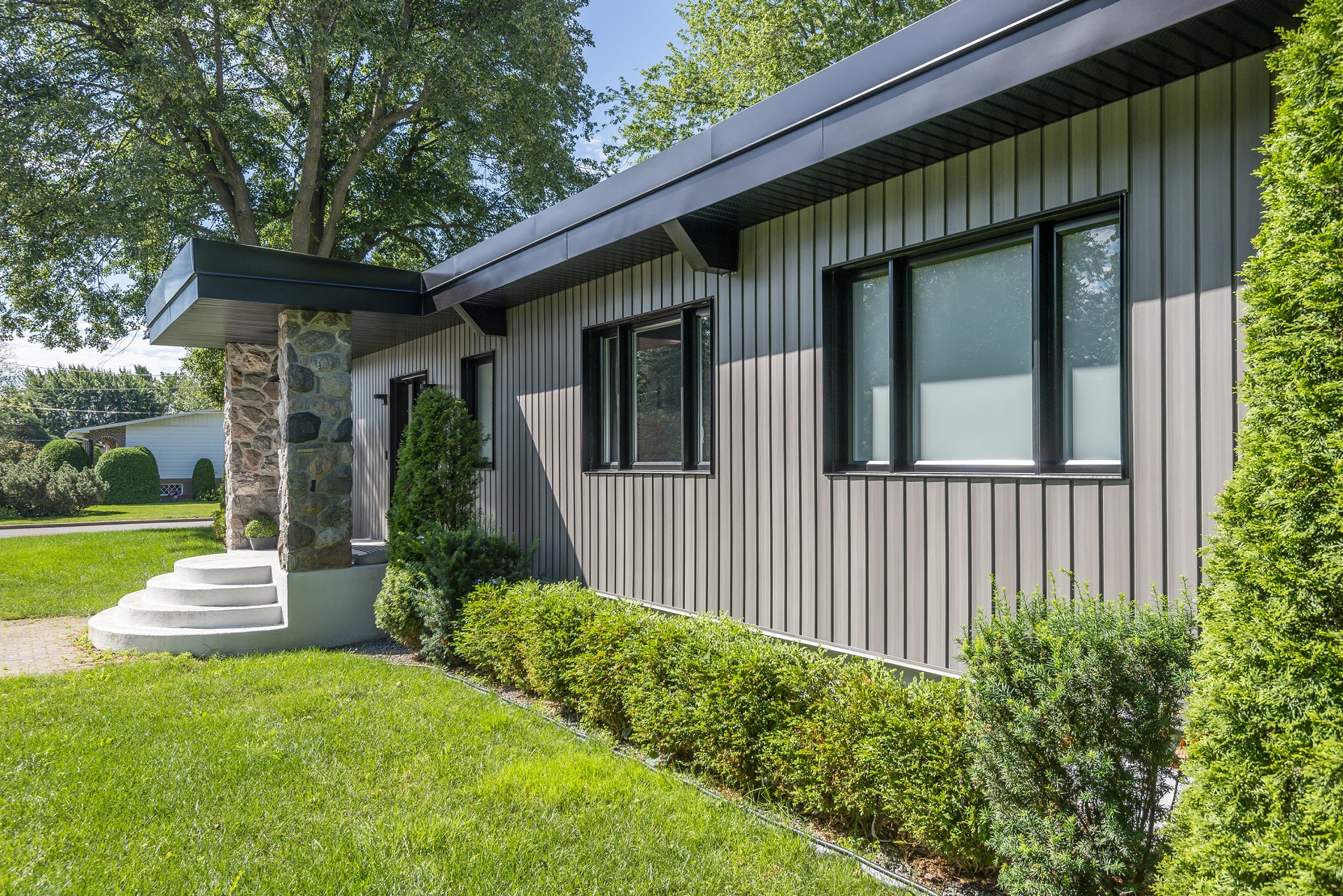 Tmberland - Driftwood
Is aluminum siding really lightweight?

The lightweight nature of aluminum allows for the fabrication of panels up to 150 inches (over 12 feet) that are easily transportable, weighing just a little over 6 pounds.

When compared to vinyl, it's obvious that the latter is also very lightweight. However, unlike aluminum, vinyl material fades, is highly flammable, and is completely opposite in terms of eco-friendliness.

Regarding steel, wood, engineered wood (CanExel), Suretouch, and acrylic (SIFE), besides often being difficult to install, they are much heavier and require more meticulousness during installation.
Durable Exterior Siding, Resistant to the Harshest Weather

The technology used by Rialux for aluminum siding ensures superior durability and weather resistance. The material undergoes only slight alteration even after 25 years.

In fact, the average lifespan of aluminum is 40 years. In contrast, wood fiber, torrefied wood (depending on maintenance), and acrylic need replacement well before that.

As a homeowner, architect, or designer, you're seeking an exterior cladding solution that is both cost-effective and reliable. Not only does aluminum fulfill this expectation, but it also imparts a modern and elegant appearance to any home, especially when combined with Rinox masonry.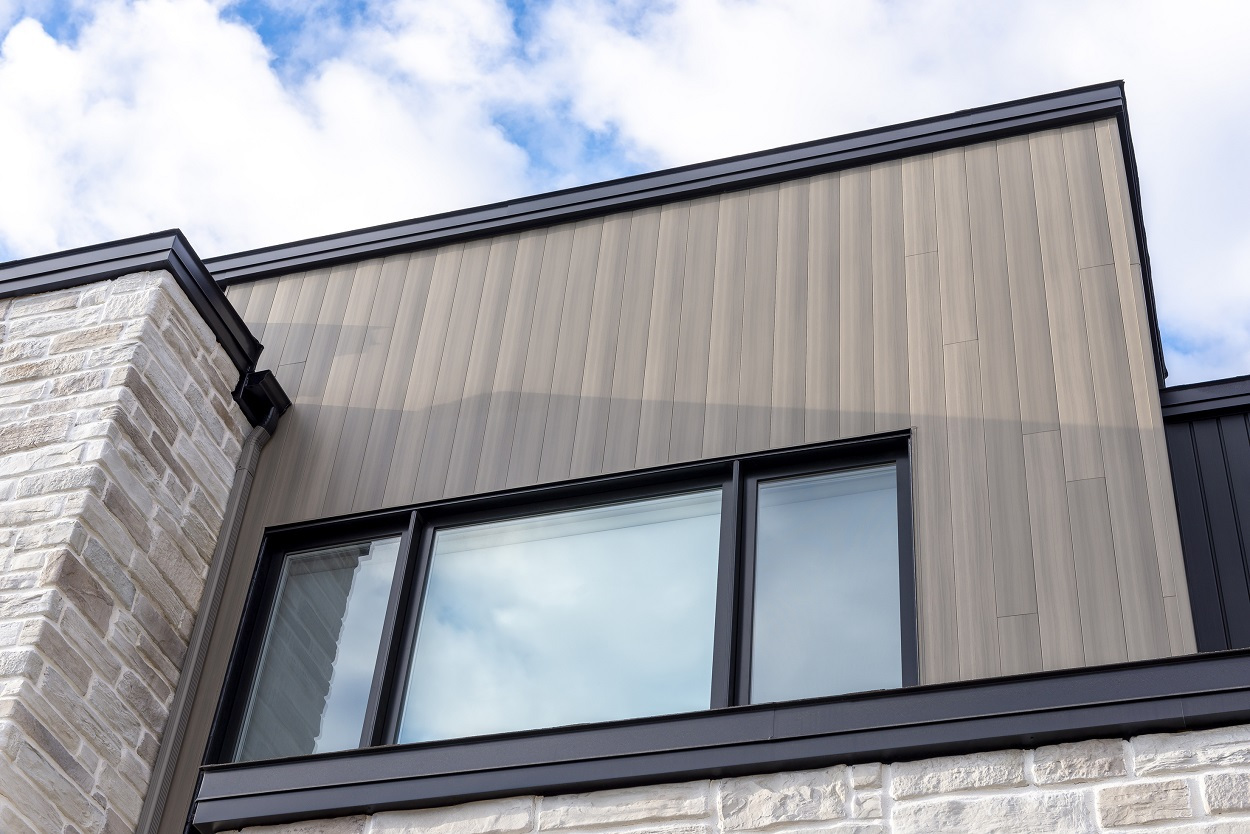 Tiago - Dirftwood & Londana stone - Amaretto de Rinox
Other Benefits of Aluminum as a Siding Material
When you choose to install aluminum panels as exterior cladding, you ensure, in addition to durability and weather resistance, protection against:
Fading
Corrosion

Moisture

Insects

Fire
This type of cladding is a wise choice for those looking to protect their long-term investment.
Still unsure between aluminum and other siding materials?

Let's summarize the advantages of a premium exterior siding like aluminum.
It's lightweight, durable, and easy to handle and install.
It doesn't rust and is fire-resistant.

At Rialux, its finish also mimics wood, and variations in shades of the same color ensure an even more natural appearance.
Whether you're a DIY enthusiast or a professional contractor, by choosing aluminum siding, you're opting for a timeless, eco-friendly, and maintenance-free exterior siding solution that caters to all your needs.

Check out the 10 stunning trending colors from the Timberland, Bolton, or Tiago collections, including the complete range of moldings and accessories. Before making your final choice, order your samples!